Top 5 advantages of smart home door locks in Greenville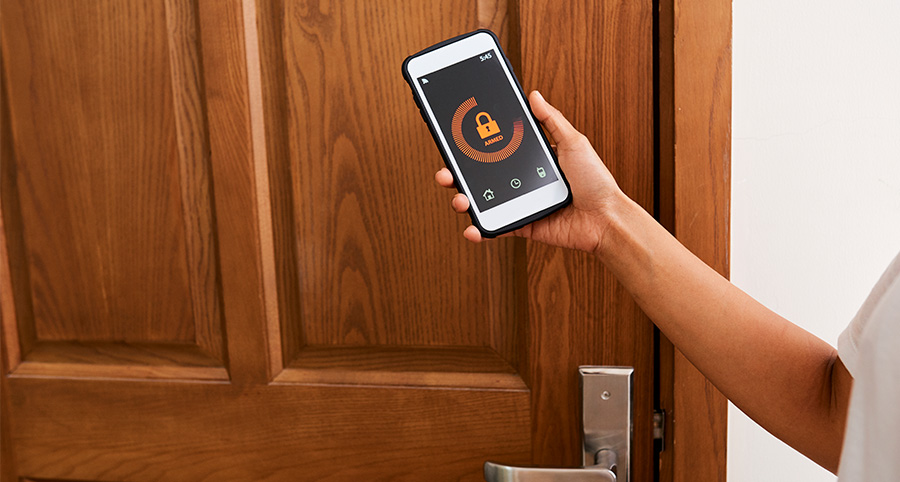 Remember when the the most convenient way to provide a neighbor entry into your house was to put a spare key below the welcome mat or partially hidden within a flower pot? There's a much safer way to accomplish this now. Smart home door locks in Greenville will not only supply convenient admittance to people you wish to let in, but they will also add protection and simplicity to your daily routine. See our top five benefits of these contemporary devices.
No. 1 - Enhanced safety for your home
It's not difficult to comprehend why placing a backup key outside for someone isn't the best idea. Smart home door locks give you the opportunity to do away with traditional keys altogether. Along with keyless entry, these components elevate protection in a range of ways as you have the chance to:
Set them to secure automatically after a particular length of time once they've been engaged.
Instruct them to lock at particular instances, like when you're going to sleep.
Inspect the app on your mobile device to determine if the entrance is secured. If it isn't, you are able to secure it from a distance.
No. 2 - Smart home door locks in Greenville add convenience
Wouldn't it be nice to eliminate trying to find a key when your hands are full of shopping bags? This is no longer a problem with smart door locks. A simple tap of your cell phone will have the door accessible and ready for you to enter. Despite the fact that functionality will differ, numerous models offer convenience through:
Access from anywhere. Lock or unlock your door from anywhere when you are connected to the internet. Did you just stretch out in bed and don't want to go back downstairs? Just engage the home security app on your phone.
Voice-activated control. Need to unlock the door when you're busy making dinner? Just speak a command to your Google or Amazon speaker.
No. 3 - Program codes for family, neighbors, and other approved visitors
One of the greatest things about the majority of smart front door locks in Greenville is that you don't have to use one code for your keypad. Instead, you are able to create custom codes for those who should have access, including your family members, neighbors, and close friends. You might even set short-term PINs or others that only work at certain times. For example, if your housekeeper typically enters between 2 p.m and 4 p.m. on Tuesdays, you can set a code for that time frame.
No. 4 - Always know who's entering your home
This goes along with the previous benefit, but it's worth mentioning. Not only do you have the ability to assign codes, but you may also monitor who is utilizing them and at what hour. Did your young adult return to the house unplanned in the middle of the day? You might even receive updates through your mobile device app. When you do this, you'll be immediately alerted any time someone enters.
No. 5 - Incorporate with other devices in your Greenville smart home
Whenever you have home automation configured into your security system, you are able to add convenience and safety by having components work in unison. To illustrate, you could program your foyer light to switch on when the main entry lock is engaged. Additionally, you might have the doors automatically unlock if a safety alarm is tripped, facilitating your exit. You can customize your home's protection in seemingly countless ways.
Find smart home door locks in Greenville from Vivint
Why not add a bit more convenience and safety to your life? Request smart home door locks in Greenville as a component of your extensive home security from Vivint. You'll appreciate the advantages such as control from your phone, integration with other devices, and the ability to personalize access. Call (864) 660-7126 today or fill out our convenient form to request assistance.
Communities Served Around Greenville By Smart Security Specialists Your Local Vivint Authorized Dealer